Alpha-H Liquid Gold Resurfacing Body Cloths
Frequently bought with
Please wait while we find a match
Questions & Answers
(3 Questions)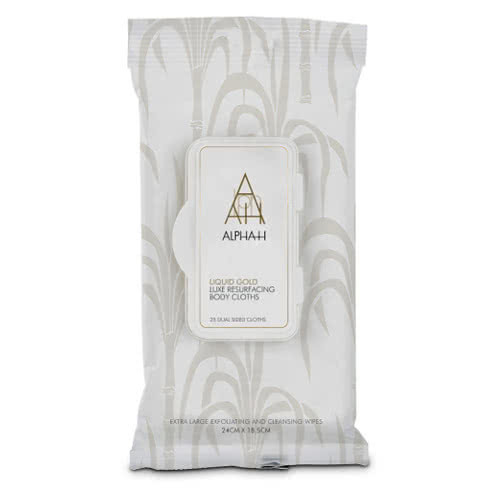 Alpha-H Liquid Gold Resurfacing Body Cloths
Get an expert to answer your question about this product!
Ask a Product Question
88% recommend this product
Most Helpful Positive
Lovely!
Great exfoliant. I love this for my acne and it helps a lot! I love these a lot.
Most Helpful Criticism
Good
I use them for removing my fake tan, really good exfolation.
Lovely!

Great exfoliant. I love this for my acne and it helps a lot! I love these a lot.

Great for bacne

They're great! They work really well. This brand never lets me down - this product works so well on body acne.

Excellent

I can't rave enough about these! How many times do I want to exfoliate in the shower but just don't have time! I do love it, but it takes ages. With these wipes, you use after you get out of the shower, use the rougher side to exfoliate, then turn the cloth over, and wipe the softer side over the areas you just exfoliated. After a few days, your skin feels super soft and smooth. Great in winter too as they are quick!

such a great product

I would recommend this to anyone! This cloth is very exfoliating, I love to use on my legs before a special event, makes them look very smooth! I always take this with me when I'm travelling!

Amazing!

I can't count how many body exfoliants I have in tubs at home - salt scrubs, sugar scrubs, enzyme body peels and coffee scrubs. I always get dry skin on my legs due to walking in harsh and cold winds and ingrown hairs from waxing. Scrubs are always messy and go really quickly. These are amazing, had my doubts but I love other Alpha H products so thought I'd give them a go. I'm never using another exfoliant again! They seem to last for ages, even though there is only 20 so in a pack. Great for tan prep and stripping off old tan, too harsh for the face obviously, but perfect for the body.

Great

Alpha-H Liquid Gold Luxe Resurfacing Body Cloths are the new way to exfoliate your body. So easy and mess free, use after showering and feel the wonderful gycolic acid working its magic on your skin. Use the rougher side to exfoliate, and do massage the cloth all around and concentrate on areas that are drier or rougher. Do your feet too, they always need extra help in the rough skin department. Then turn the cloth over and use the softer side to nourish and hydrate the skin, leaving your skin feeling soft and smooth. Saves water too because you don't have to do it in the shower which is great.

Takes off my makeup so well

These work a treat for heavy makeup removal without being too harsh.

Really good.

They're great! They work really well. This brand never lets me down!

LOVE

I love these so much! Do what they say but also make my skin feel super fresh, feels like I've exfoliated and moisturised and once. They also last really well in the pack; super pleased with these!

Good

Does exactly what its supposed to.

Quick & easy

Another great product by Alpha-H, so quick & easy to use & they really do work.

Great

I love these, they are so quick and easy to use, I use one every second day after my shower, use the abrasive side to exfoliate, then turn it over and gently soothe with the lovely soft side. My skin feels amazingly soft, and I love how you save water too.

Excellent for travel

I purchased these to use whilst trekking as I wouldn't be able to cleanse and exfoliate my skin as I would normally as intense exercise. They were excellent and definitely helped prevent annoying chest pimples that appear when I am sweating and wearing active wear.

Good

I use them for removing my fake tan, really good exfolation.

Improved my keratosis pilaris significantly

I have had keratosis pilaris on my upper arms for as long as I can remember. I have tried over the counter and prescription products recommended by my dermatologist without any great improvement. After a single use of the Alpha-H Liquid Gold body cloth I saw an improvement with the keratosis pilaris on my arms. It has not completely gone, however now, after using the cloths about 3 times this week there is a significant improvement - still slightly red, however now with no raised bumps. I use one wipe across both arms. And for super soft legs, I use one wipe across both legs as an excellent prep for a fake tan, moisturiser or body oil. Definitely worth a try if you suffer from keratosis pilaris or want an excellent prep for fake tan.

Alpha-H Liquid Gold Resurfacing Body Cloths

Great for those cant be bothered days. I find them quite large so have cut them in half. Works good for when I'm in a hurry to give my skin a clean up rather than go through my whole routine. Definitely handy and portable

Good

I suffer from Keratosis Pillious and adding these to my current routines has been a blessing.
Blocked pores have minimized drastically, finally I have bump-free arms and legs!
These are also great for self-tan mishaps!
Recommend!

Great

Good for getting off fake tan

Unexpected quick results!

I love these wipes. They really make a quick difference to my chicken skin Upper arms! The textured side was much better than I expected.
My only gripe is they dry out too quick! But I love them!

Beautiful Cloths

The Alpha-h liquid gold resurfacing cloths are super nice.

they feel very luxurious when you use them. its like going to a salon and having the treatment done however you can do it in your own home. the ONLY downside to these cloths are the price.

Your skin will thank you when you start using these... your wallet may not :)

Great

I suffer from Keratosis Pillious and adding these to my current routines has been a blessing.
Blocked pores have minimized drastically, finally I have bump-free arms and legs!
These are also great for self-tan mishaps!
Recommend!

Convenient exfoliation

These are great for travel (which is what I first bought them for) but I now use them at home too for quick and easy exfoliating or freshening up.

Great

Good for travel, work, makeup removal, anything really!

Mess-free exfoliation

I love these for the neck/decolletage after a shower and before my serum and moisturiser.

TIP: Use on heels, elbows and cuticles

Great product

Clothes are large but do dry out quickly. I have liquid gold at home so just put more product on the same cloth to dampen it up a bit as apposed to using 3 or 4 wipes for my whole body. Left my skin soft almost instantly. Would definitely re purchase if there was not product/liquid on the wipe as it is quite pricey. Otherwise liquid gold would be the next best thing

Best

Best thing I have ever bought

Love these cloths!!

Love these cloths, they make my skin sooo soft. Am on my second packet. Generally don't like to buy products that aren't environmentally friendly, but these work so well. Hope they are biodegradable- doesn't say so on the package

They do work...

There are lots of things i love about these - the 'rough' side really is bumpy and feels like it's getting into all the nooks and crannies. Used a few times a week they do smooth skin. However, they are also quite fragranced - not unpleasantly so, they smell just like old fashioned baby wipes. However i was expecting fragrance free just like the alpha h gold in the bottle. (unlike other reviewers i definitely WOULD NOT recommend using these to remove makeup or as a face wipe - too strong! stick to the alpha h facial products for that)

Love

GREAT! they really refresh and also can be used to remove makeup, great for travelling and just touching up!

Not too bad but cloths dries out quickly

I have keratosis pilaris on my arms and torso (little bumps from clogged pores), and AHA acids are the best thing for it. This was pretty much the only brand I've found that does AHA body wipes. I like the textured cloth, but I wish they were a little 'wetter'. It dries out quickly after using it in one area. I gotta use at least two wipes for the whole body. For KP, you need to exfoliate regularly with AHA acids to keep it under control so it's a little costly for me. It works fine, but I go through them quickly so I may have to look for more wallet-friendly options.

Great

Just a usual wipe, but I have no reaction, they are soft and gentle, but remove all sweat, dirt and grime!

Great Product

I found these cloths amazing. After first use I could really see a difference in the smoothness of my skin.

Great wipes

These wipes are great for the body and face. I needed some extra exfoliation because when I don't exfoliate at least three times a week, I get breakouts, my makeup looks disgusting and wrinkles look worse. So...when I remembered I had those I used them and they worked amazingly. They smell great and they remove makeup beautifully. I've use them for my body too and they work great. Try them....you won't be disappointed.

Great

Such a great and unique product. Good exfoliating properties, especially great for travelling. Makes my skin feel so good.

Alpha-H cloths have completely saved my skin

I have quite congested skin so I purchased them for the pimples I was constantly getting on my back. Been a regular gym goer always makes congested skin a bigger problem than it already is.
I also use them on my legs as I've have issues with diminishing ingrown hair scars.
The cloths have improved my skin congestion to the point where I barely get pimples on my back at all anymore.
As for my legs they are silky smooth & my scars have faded a significant amount.
Seriously you must try!!!!


Good for bumpy arms

I use these across my shoulders, behind my thighs but I mostly concentrate on my arms which have little lumps (keratosis pilaris). It's great to efficiently and quickly exfoliate before I head out the door. At the end I also wipe the back of my hands which get very little TLC. I've definitely noticed a softness everywhere I use the wipes. On the downside they are quite expensive for everyday use so I only use 1-2 times a week but I will repurchase.

ALPHA-H LIQUID GOLD RESURFACING BODY CLOTHS

As far as results, I always saw a grey residue of impurities on the cloths. However, I had better results (more grey residue) when I applied the original Liquid Gold onto cotton makeup remover pads. This is because I saturated the pads with a decent amount of Liquid Gold.

Great for arms

I like to use these on my arms to remove any impurities. Would purchase again.

Average

the wipes work but there isnt alot of product. I wont be repurchasing, the bottle of lipquid gold is much better value

LOVE

My back has a lot of pimples and this cloth works a treat. It's as good as liquid gold and really improves texture and complexion of my skin. Now I can show off with low back outfits.

Ok but bottle of liquid gold bottle better

These are good for a quick cleanse but I usually do this with my bottle of liquid gold and pour onto cotton pads and tissues and wipe arms and hands to stop dry skin.

Don't waste your money

I'm not sure why these even exist? Biggest waste of money.
If you are wanting to scrub your body just use a good coffee scrub. The cloths are big enough for your body but unfortunately read closely as it only has enough product on the cloth for "one area of concern" so pretty much your using a massive cloth for say, your dry elbow. By the time I've used this on my chest the wipe is bone dry, no "turning over" to the smooth side to get the last of the serum, that's it. If they had more moisture then sure they would be genius but I just don't understand why you would pay $30 for a large cloth that has half the moisture of a baby wipe. Don't buy them.

Pretty good

I bought these during an Alpha-H spending spree after I fell in love with Liquid Gold. I thought that they would be good for the KP on my upper arms, but I've been a bit too lazy to use these regularly, plus I realised I could go through a packet of these every month if I was consistent about it!

Great exfoliant needs more hydration

Great at exfoliating, smooth legs afterwards and my tattoos look lovely and fresh. However I found while hydrating st first it didn't last long and requires moisturiser the same day.

Pretty good but not enough product

I love the impact of these cloths but like other reviews I definitely find that it's not really enough for my whole body.

They're pretty hydrating, and leave a great look and feel on the skin when there is enough product.

Quick with Great Results!

I love glycolic acid on my face, so why dont I use it on my body?
With a quick exfoliation on one side, and a moisturizer on the other, I can treat my entire body to a pamper everyday! Love these wipes, especially in summer when my legs are on show more often.


Nice

I really liked these body cloths, they are so gentle and smell really nice. My skin definitely felt smoother after using them however I wish they had a bit more product in them as they can feel a bit dry after being exposed for a couple of minutes. I wish I could get a more concentrated formula in the wipes.

Great results but impractical format.

I received these as part of an offer with the Liquid Gold - which I've been using for a while now to fantastic effect. While they do leave my skin feeling beautifully smooth and have greatly reduced my keratosis pilaris, I find the wipes to be an unnecessary waste. Hence why I gave these four stars instead of five. I would have preferred for Alpha-H to release a liquid version of this, like the asap clearskin bodygel, hopefully they will in future.

New product to my body routine

Since becoming pregnant and now in the first few weeks of being a Mum, my skin has become very dry particularly on the top of my arms. I purchased these cloths after looking for a product that would not only rehydrate the skin but also get rid of the 'chicken skin' that has occurred on my arms. I love the Liquid Gold by Alpha H and know that glycolic acid is great for texture on the skin. I use this every second night by rubbing my arms with the textured side of the cloth and then following with the smooth side. This leaves my skin feeling fresh and clean and my skin calms down. The next day I notice that my skin has become a lot more smoother.
My only less positive comments would be, I hate that it's cloths. It is a waste product and using them every second night means that I would need to repurchase very soon. Also, I've almost finished the pack and notice that my skin isn't cleared up. Once I stop using the product my skin returns to it being textured and dry. I will repurchase again until I can find another product that is s bit more friendlier to the environment and the hip pocket! Side note, make sure to apply sunscreen daily as this product can make you burn more easy!

Easy to use

I have dry skin and found these easy to use and they did make my skin smoother but I found it just as effective to exfoliate using a body brush or mit in the shower. I think these are unnecessary and may be more effective on different skin types. I still have half a pack left and find they just didn't fit into my routine.

Totally Refreshing

I received this product as a sample with an order. I absolutely loved it! My skin felt smooth and invigorated after 1 use. I used the rough side for exfoliating and then finished with the smooth side and my skin looked awesome!