Eye Of Horus Goddess Mascara 8g
Questions & Answers
(3 Questions)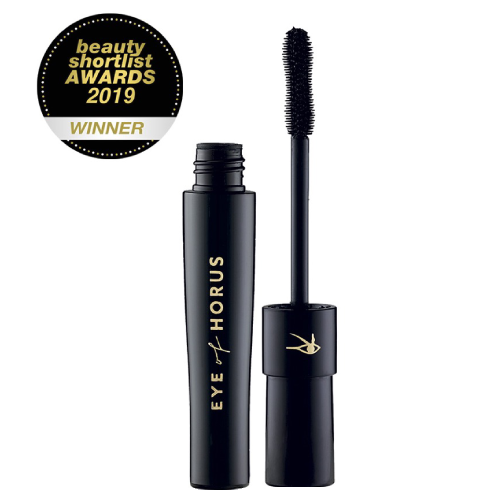 Eye Of Horus Goddess Mascara
Get an expert to answer your question about this product!
Ask a Question
77% recommend this product
Most Helpful Positive
Stunning effect
I love this product so much! It makes my lashes so long and curly it is honestly amazing!!!
Most Helpful Criticism
Disappointed
This is really an everyday mascara and doesn't do anything spectacular for your lashes. The only positive is it doesn't seem to transfer onto your eye area when wearing all day and when removing it comes off in chunks and doesn't leave you with panda eyes
Stunning effect

I love this product so much! It makes my lashes so long and curly it is honestly amazing!!!

Nice

I really like this product, it is nice to use, looks great one, super easy to wash off with water. The only downside is that I find I have transfer issues of it being both under my brows and lower lashes. I do live in a humid environment, so this may be a contributing factor?

Amazing

This mascara has good consistency. The colour suits me as well. Definitely recommend.

Gentle Mascara

Nice mascara that doesn't dry lashes and removes easily. Only downfall is it has quite a wet formula so extra care required on application.

Doesn't smudge

Separates lashes, adds volume and doesn't crumble or smudge! It's maybe not as heavy hitting with volume like my favourite Dior Diorshow mascara, but it's nice if also natural beauty is your thing :)

Irritated

This is the only mascara that I've ever used that's irritated my eyes.

Easy to apply , completely covers each lash , is easy o remove & leaves no mess or black smudge marks .

Coats each lash evenly & is easy to apply with the large brush. Absolutely no mess to remove & actually still looks like you have mascara on when you don't & no black smudge marks left under your eyes

Love it when it's dry

I think the mascara is too wet when it's new and tends to smudge and doesn't build up as nicely, but when it dries up a fair amount, it's great! It doesn't smudge or transfer on to the skin during the day, it also builds up really nicely and allows for super voluminous lashes.

Love it!

Doesn't smudge, it's easy to get off and it separates my lashes perfectly. The formula is a bit wet so you have to be careful when you apply it, but other than that it's perfect!

Great coverage mascara

Great mascara, very black. Onto my second purchase. Doesn't go clumpy, stayed a great consistency. My lashes improved with use also.

Wasn't wowed

I recieved a sample of this and wasn't really wowed by this product.. didn't think it did anything that great. Pretty average compared to some other mascaras on the market at the same price. I wouldn't purchase

AMAZING

love this so much!!! makes my lashes so long and curled, don't even need to use a eyelash curler! so nice and light on my lashes and gives them a full volume effect!

No the best

I recieved a sample of this. I'm glad I didn't pay full price. It doesn't really do anything a normal $5 mascara can't. It didn't add length or volume. It just looked cheap and spars on my eye lashes

Natural vibes with amazing applicator!

Legit love this mascara! I've used quite a few brown mascaras in the past, but this is the most natural one I've used to date. The applicator is perfect for my lashes - goes on so smoothly, not at all clumpy which is hard for me to achieve because I have these crazy eyelashes that grow in weird criss-crossed directions in the corners (why me).

Also as someone who has really suffered with allergies and itchy eyes especially with the change of seasons, I've had no reaction to this product, so it definitely lives up to it's "good for sensitive eyes" claim.

Excellent

Very good quality mascara. I have used mascara for 2+yrs now. Started using it after read reviews about it being good for sensitive eyes. I love it! No.allergies from this mascara. I use brown for every day use and black for night times/special occasions. Easy to build up for a full look.

Different

A mascara that doesn't smudge

Lovely Natural Look

This mascara is exactly what I wanted. I wear minimal makeup as I prefer a natural look and Eye of Horus Goddess mascara makes my lashes look longer and a little fuller without looking clunky. I love that it doesn't smudge or flake like other mascaras I have tried. I find that applying two coats is perfect for me. I would recommend for anyone who prefers a natural look.

Received with adore beauty bag gift

This mascara is replacing my Too Faced Better Than Sex mascara which is a big call. It doesn't smudge or flake all other the place and gives volume without getting clumpy. In love

Best ever

I love a very black mascara and this one dose not dissapoint.. great brush shape for my long lashs

Happy with product

I received this mascara as a gift with purchase, having tried a large variety of brands I can say easily this is a top 5 favourite. Non clumpy formula, bold pigment, non flakey and excels in achieving length. Can be built up for a more dramatic look without making the lashes clump together - would recommend!

Better than expected

For the price, this beauty is a steal! I hate clumpy smudgy and fake looking lashes and this baby delivers all that I want. I would say that this mascara is subtle yet it adds a little extra to my lashes. Perfect! Will definitely reorder.

10/10!!

This is exactly what I'm looking for in a mascara!! It is perfect!! I will be a customer for life, I will never waste money on other brands again. As a natural blonde with fair complexion, its hard to find mascaras that can define my lashes and look natural without applying on too thick and heavy. I purchased the Brown and can control and build the depth perfectly for that no-makeup look or for a bolder evening-wear style. No clumps or smudges. Perfect applicator and formula.

Pretty good

This mascara is pretty good. It does everything you want a mascara to do. It lengthens and makes your lashes fuller! I did find that it was a bit smudgey after a couple of hours

Smudges

I received this as gift with purchase. The main reason I don't like it is because it smudges within a few hours making it look like I have super dark eye bags. Nothing else matters if it smudges, but this mascara doesn't do anything great either tbh.

Cruelty free and awesome quality

I have the most sensitive eyes and I have always struggled finding a mascara that's gentle. This has not disappointed and I have used this daily with no problems! I also love the values of this brand and it's such high quality!

My everyday mascara!

If you're like me and want a mascara that is going to give you great coverage, natural featheriness, and not get smudgy then this is it. I am into the whole "no-makeup" look and this nails it. It is enough to give me the perfect rich brown lashes I desire without going overboard or being clumpy and thick.

However, for a night out or something where I wanted a bit more of a done up look, I would definitely be using something else - it doesn't quite give me the boldness I want for fancy occasions.

best one yet

its brush is amazing and in matter of few strokes my lashes look so thick and long and people ask me if i am wearing false lashes. totally worth the hype

My fave EVER

This is my favourite ever mascara. Glides on so beautifully and makes my lashes long and defined. Really buildable. I use it everyday so it doesn't last more than a couple of months, but I continue to buy tube after tube. It is just too good. Also it washes off easily without smudging or damaging my lashes.

Vegan and cruelty free!

I love this mascara for lengthening. However it doesn't do much for volume on my tiny lashes. Vegan and cruelty free is the way of the future and I'm happy to find products like this doing so well on the market!

The best mascara

I have sensitive skin. I prefer natural beauty products for health and environmental reasons. I am in love with the brown mascara. I won't buy anything else. Worth every penny. Doesn't smudge or flake like other natural mascara.

Pretty great mascara!

I quite like this. Opens eyes, lengthens lashes and washes off easily. Great everyday mascara

Excellent for Sensitive Eyes

I have a lot of trouble with mascara in that if there is the tiniest flake my eyes just go crazy - red, tears run constantly, swelling, and just general itichiness and irriation. I also need a waterproof mascara because my eyes are naturally a bit teary on and off, espeically in cold weather. The Goddess Mascara fits the bill. I have had my current mascara for 12mths and I am only just now going to replace it as it's getting a bit old and a bit dry. Normally I'm switching out mascaras at least every 3 months. It doesn't irritate my eyes, and I've never experienced any flakes. Used in conjuction with the Eye of Horus Goddess eyeliner (eyeliner is another product I have trouble with, but the Horus is fantastic!) and I'm all set.

new fav

Love this mascara separates the lashes and really lengthens.

Disappointed

This is really an everyday mascara and doesn't do anything spectacular for your lashes. The only positive is it doesn't seem to transfer onto your eye area when wearing all day and when removing it comes off in chunks and doesn't leave you with panda eyes

Disappointed

I bought this mascara in the hopes it would outrank my current maybelline mascara as I liked the idea of it being vegan & cruelty free. This mascara has not lived up to the hype. Let me be clear the mascara gives you a very natural look, like looks like you have no mascara on at all even after 5 coats. However if you want a barely there, very natural look, then it's great. I like to be able to build my mascara to a more evening look. I put about 10 coats of this one on & it still did not match my one coat of maybelline. Pretty disappointed. Had high hopes.

My new Fav!

This Mascara is amazing! I love how easily it is applied and leaves your lashes looking full and upright withought havig to apply too many layers, very happy!

The best mascara ever!

Never thought I'd find anything better than what I was using in the past but this is lengthening and literally smudge proof! I'm converted.

Amazing results

Love this mascara! It makes my lashes looks thick and long. A bonus is when you wash it off at the end of the day, it comes off so cleanly instead giving you panda eyes as you are trying to take it off. Highly recommended!

No smudges!

I brought this for my mum as it had great reviews for sensitive skin / eyes and not smudging.
She absolutely loves it , every few months I get her request to order a new one :) after years of hunting for a great mascara she's found one ! I think it's about time I get one for myself too.

A.M.A.Z.I.N.G!!

By far the most amazing mascara on the market! I have naturally long eyelashes however this also made them super thick and people thought I had lash extensions!

Really nice on the eye easily removed with a makeup wipe. Some mascaras sting my eyes however this didn't at all.

Best mascara with zero smudging

I love the way this mascara stays on my lashes and when I wash my face it comes off with no smudges or nasty black circles. It's a big call, but it's the best mascara I've used!

Regular mascara

I got this mascara in mini size as a gift and absolutely loved it, so once it finished I re purchased the full size and for some reason not loving it anymore as much as the sample.
I do like brush, doesn't make the lashes clogged, but pretty regular mascara

The Best Mascara!

This is such a good mascara, it makes your eyelashes absolutely POP, doesn't smudge and is long lasting. Plus there are no nasties. I really like that it washes off so easy. I find with other products I have to use eye makeup remover and really rub under my eyes to remove the black but with this product, I just use my regular cleanser. I have been using this mascara for a few years now and it is worth the price.

What a mascara !!!

Love this mascara and "adore" the Eye of Horus brand.
Goes on great and makes my blue eyes stand out even more.I get a lot of compliments for my eyes wearing this now. Just wish was more affordable price range.

Best mascara

I bought this based on an Adore Beauty review and never looked back. I have tried a few mascaras over time but I love this and will stick with it. It lengthens, lifts, volumises - does it all without looking too dense or thick.

Awful

Waste of a lot of money. Clumps on, then flakes off, I've bought most cheaper that are better than this. Absolutely terrible.

Very Impressed with this mascara

I received the eye of Horus Goddess mascara in a deluxe sample size from Adore Beauty as a gift with purchase. I was seriously impressed with its lengthening and curling power. It stayed on all day and did not clump at all. I would definitely purchase another one.

Smudges above and below eyes

When I saw all the good reviews of this mascara I went straight out and got it. I have fair lashes and need a good mascara to make it look like I have any at all. When I first put it on I thought it was excellent. It goes on without clumping, even after multiple coats and it just looked nice! That is where the good part ended. After about an hour of having this on I looked in the mirror and had huge smudges above my lashes on my brow bone and some smudging underneath my eyes. I pushed through and kept trying it for a few weeks but the same thing happened every time. I thought maybe it was my eyes and skin so I tried a different mascara and have not had the same problem. Disappointing, especially at that price.

Not worth the hype

Love the deep black colour but be warned it smudges - badly!! Def not smudge proof and def wouldn't recommend to anyone. Panda eyes suit no one!

Great non clumpy mascara for sensitive eyes

I recently discovered this brand & love it. My eyes are sensitive to eye liners & mascaras with chemicals - which means most brands. This one does not irritate my eyes, goes on easy without clumping & has beautiful stylish packaging. Love the company ethos - their products are natural (better for you & your skin & body) & ethically produced. Wish it was a bit cheaper though!

The perfect mascara (in some ways)

Visually, this mascara is perfect. It doesn't look clumpy and feels super liquidy when you apply it. The major issue that I had with it was how dark the smudges were when I went to take it off at the end of the night. Definitely worth a try though. Wouldn't recommend for everyday use.

Lives up to the hype

I was nervous to try this after seeing so many good reviews, not everything lives up to the hype but this product does! Beautiful lashes with no flaking or smudging all day yet it comes off easily! Love it.

My new fave mascara

I have really sensitive eyes (often red, inflamed when I wear eye make up) and I have minimal issues with this one. Lengthens and thickens lashes beautifully too.

Not worth the hype

Nice enough effect but really flakes and drops down during the day causing panda eyes. Not irritating and easy to remove

LOVE

I love all of the eye of horus products but their mascaras and eyeliners are by far the best! worth purchasing always

The best !

Love this, I've been using for two years now.
Everyone comments on my lashes once I apply this. it gives a natural look, I'm always looking for a mascara that separates each hair and not look clogged

Long lasting non clumping formula

At first I was a bit disappointed with this mascara as it didn't give my lashes the Dramatic volume or length that I like more of a natural look however after a week of using I was able to achieve more volume and length after getting used to it but still this is more of a natural look. The formula is amazing does not clump and it's very long lasting. I work up to 12 hour shifts and no panda eyes. Does not irritate sensitive eyes and is very easy to remove it's more of a fibre formula so requires little rubbing. I give it 5 stars for non clumping and long lasting and 4 stars for volume and length.

Good

I have sensitive eyes and this mascara didn't irritate them, but I didn't find it to give my lashes a whole lot of volume or length

Love everything about it except it does transfer

I really do love this mascara - when I first put it on it makes my eyelashes lovely full and long - I like the drier formula and that it's easy to apply BUT I've noticed that it does transfer during the day - which means on hot days I get black panda marks... which I don't love.

Best Mascara EVER

This is honestly the best mascara I have ever used. It doesn't clump your lashes together or have nasty fallout leading to panda eyes. The colour is super black and I never have smudging. It holds curl too.

Had Better

It did not clump or flake. Applied smoothly but just did not give impact :(

Best suited for a minimal look,which can be achieved at a much lower price point from other brands on the market.
If you like a voluminous,full thick lash look, this is not the correct product to create this

Ok for natural look

I bought this mascara based on the rave reviews however I was let down. It is good for a more natural look but I find it doesn't set my lashes right. I prefer more volume and fullness to my lashes so this was not right for me.

Lengthens and sets

I'm always on the hunt for the perfect mascara, volumising, lengthening, black, no smudging, setting and lasts all day... so Eye of Horus was next on my list.
I've been using it for a week now and I'm on the fence with it. It's great for lengthening (if enough coats are applied), it's black as black and it doesn't smudge throughout the day. As it doesn't add any volume, I am using it with the remnants of Stila Extreme lash. Only by layering them together, I find it gives me what I'm needing in a mascara. The hunt continues...

Skin is fair, light eyes and dark hair.


Used to be good

I was so happy to have found a good mascara that had less chemicals than mainstream brands. The first tube I bought was excellent - great lash coverage with volume and length. Came off easy too but the second tube was a real letdown. It doesn't volumise or lengthen and leaves residue near my eyes when I use makeup remover. I won't be repurchasing!

Easy & Natural

After having lash extensions for years, I wanted a mascara that made my lashes look naturally thick and dark.
This product glides on so easily & I found that it covers all lashes quite naturally without that yucky clumpy build up.
Most importantly, it washes off easily & doesn't smudge.

Love thissss mascara !!!

Have used this for the past 3 years. No smudging, lengthens the lashes and you can build upon it.
Very easy to remove when you need to at the end of the day.


Was so good - WHAT HAPPENED!?

Eye of Horus mascara was an absolute revelation when I first discovered it via Adore, I was recommending it to anyone who would listen! I loved the way it coated my lashes and then effectively 'set', drying and not budging until I removed it. I went through two tubes, no issues, then something changed on my latest one. It doesn't seem to have the same consistency, it no longer 'sets', it smudges both above and below my eyes. I have to clean up around my eyes several times during the day which was never an issue before.
I don't know if they changed the formula, but it's not the same! From a 5 star product to a 2 star product overnight.

Not fantastic

This is fine for everyday use. It lengthens the lashes and stays on well. But it's not the best I've used. Doesn't give volume but a kind of subtle spider lash look.

Purchase again? Maybe

I bought this product based on the reviews i read here.
It made my eyes sting a little. The style of the brush seems to make too much of the product cling to it..... it seems like more than my usual amount of mascara is applied, making it easily smudged.
Lashes looked much longer just didnt like the heavy application. Perhaps i just need to practice on my technique.

LASHHHHES

In love! I received this as a sample with an Adore order I recently placed and will literally never buy any other mascara now. It's amazing! I actually got asked multiple times whether I had lash extensions the first time I wore it!! It's so smooth, no clumps and is nice and easy to remove when you want to take it off. IN.LOVE.

Only mascara I will use

Eye of Horus Mascara has been a staple of mine fro about a year now. Have repurchased a number of times. Gives amazing long lashes and is buildable more a more dramatic effect. The brown is great for casual day time too.

Amazing!!

I tried this product after receiving a sample one from AdoreBeauty and.. wow.. it's amazing! Makes my lashes look great and will definitely be buying the full sized version!!

Doesn't irritate eyes!

I was a bit worried this would be dry after reading some other reviews but this was not the case at all for me. I have very sensitive eyes and this is the only mascara I have used that actually gives my lashes definition and length without irritating my eyes. Winner!

Great

The brush makes it easy to grab and cover even the smallest of hairs and cover them in this mascara,

That's as black as black. It's not clumping easy to applying and build up, with not flaking or smudging during the day even in the rain, doesn't smudge. And when I remove it it's just warm water that melts it off, so no eye makeup remover required. The extra bonus is I feel it's good for my eyelashes sort of conditionin. Love it

Lovely but doesn't hold my straight lashes :(

Such a lovely formula!!! I can definitely see the lengthening and volumnising in this one. Unfortunately it just did not hold the curl in my straight lashes so I had to revert back to my usual mascara.

My holy grail

This is the best mascara I have ever used. I have naturally long and thick eyelashes, but are rather light in colour. I find lots of mascaras can make my eyelashes look clumpy. Not this one - this one looks SO amazing. It makes it look like my eyelashes are just naturally extremely long and dark!

Amazing !!!

Love Eye Of Horus mascara it's a great colour, really stands out and most importantly it's Vegan friendly and no nasty chemicals.
I have sensitive skin and had no issues with this one.



Glam Lashes! Not my everyday!

I initially went for this mascara as Eye of Horus is cruelty free, which I love:) But realized once I received it that is does give a more Va-Voom lash look that I thought which I'm not after for my everyday. I'll definitely use it for nights out but won't be wearing it for my everyday look as a very natural look kinda gal!

New fav

I'm a big fan of this. Lengthens without giving me spider leg lashes. Doesn't flake off during the day. It's cruelty free too. I've purchased a few eye of Horus products now and all are excellent

Natural and Beautiful

It is a natural mascara which is always a plus and I haven't found my sensitive eyes to be triggered by this mascara.

Over the day I have experienced some flaking but it brushed away easily and was no big deal.

Overall it gives a lovely coat to each lash to create fluffy full lashes that last all day and is made in Australia!

Lengths eyelashes so naturally

I had heard so much about this and I'm so glad I tried it! It's very natural as in it doesn't over volumise to make them look like falsies but lengthens to make your eyes pop! I would suggest not over doing it as you only need a little of the product to make them beautiful! The other thing I loved is that there is no midday or evening or even morning smudging so last's for ages

Not the greatest but not bad

Makes lashes look thick and long but really smudged badly on my oily skin which was a shame as it did make my lashes soft and I'm sure they grew longer as it didn't damage them at all. I had to chuck it out after a week cos I was a smudgey mess when I used it

Nice mascara

I do like this mascara. It doesn't smudge as easily as others and defines nicely. However, it is a steep price-point for a product where there are great mascaras a lot less than this.

Perfect

Does a fantastic job; absolutely no smudging or flaking throughout the day! My lashes are full, plump and super long. Get so many compliments wearing this.

Makes your eyes POP

Great mascara that makes your eyes POP with a nice natural full look. Goes on beautifully and lasts all day.
Washes off easily at the end of the day.

My type of daily mascara

My fav thing about this mascara is how it makes my lashes look, full and long. Next up would be how it lasts perfectly all day until I remove with warm water and microfibre cloth. Even when I swim in the ocean it stays great!!! Amazing.

It also goes on so nicely without any clumping (I really don't like it when mascara's make my lashes clump together) whereas this one separates them so well and the jet black colour makes my eyes stand out.

Best mascara I've ever used

I only recently purchased this mascara and I'm glad I did. Most mascaras make my eyes itchy and my eyelashes brittle. This one is soft on your lashes, not clunky and most importantly for me, it doesn't irritate my eyes!
I'll be buying it in future and I think I might be buying them as Christmas gifts for my sisters and mum too!

Perfect Mascara

I've tried many mascaras over the years and this is definitely in my top 2 of all I've ever tested. I have been using this mascara for the last year or so and wouldn't bother trying anything else (unless they change it or stop making it). I've tried the vegan version by Eye of Horus but disappointingly it didn't match up to this product. The Goddess mascara is thin enough to be easy to use, but also holds a curl well, which is a must for me. The brush is also the perfect size (a little on the larger size), and goes on well every time. It does tend to dry out slightly after 2-3 months but that's standard time for me to replace them anyway. Definitely recommend if you're after a good all-rounder mascara!

Amazing

Truly one of the best mascaras on the market, this brand is so underrated. I love using the brown shade for everyday to day.

My favourite mascara ever

I love love love this mascara! It's the first mascara to not irritate my eyes while not sacrificing performance. It lengthens my lashes without clumping.

I spend a lot of time in the water and this mascara doesn't budge when I go in the ocean. I also hate going to bed with any make-up on whereas with this mascara I have forgotten to take it off and woken up fine the next day. No dark eyes and hasn't irritated my eyes.

It is the best! <3

Great for Everyday Wear

I've tried all sorts of mascara from cheap to the expensive ones. I have oily eye area and also sensitive eyes due to having to wear contact lenses. Most mascara will dry my eyes the minute it's put on but I find this one less abrasive. It's long lasting and richly pigmented without being gluggy. It's worth a try if you have the same problem as me.

Irritated my eyes

I used to use this mascara years ago, but stopped because I thought it may have been irritating my eyes. I purchased it again this year forgetting about the fact that it made my eyes itch. I regretted it immediately and by about lunch time, I was scratching my eyes furiously. It seems to flake off easily, and the pieces get in my eyes. I do have quite sensitive eyes, however I use Benefit They're Real and Charlotte Tilbury's full fat lashes and they do not irritate my eyes at all... so they're not that sensitive. But this stuff it the WORST mascara I have ever used.

Love this mascara

I love this mascara and have purchased it several times and have got several friends onto it as well! It goes on really well and defines and thickens the lashes without clumping. The only flaw is that it can transfer slightly when I don't use setting powder under my eyes. Besides that, I love this mascara.

Disappointed

I was excited to try this mascara seeing as it had won an award and expected it to be amazing. Unfortunately it fell short of my expectations and was very average. I found it to be clumpy and quite dry. I have found cheaper mascaras in Priceline that did a much better job.

It won an award

Firstly, I don't understand why so many bad reviews. I alternate between this mascara and another by Eye of Horus. It really separates your lash, coating them so you have your lashed looking natural and long not like spider legs. Also it Australian made and owned, organic ingredients and not tested on animals! How good is that!

Sadly disappointing

I was keen to love this mascara especially seeing there was a brown. While it has some good qualities, I was somewhat disappointed. I quite liked the brush and certainly loved the Babylon Brown colour. There were no issues with panda eyes, clumping or flaking. It was very simply incredibly dry. From the beginning of the tube it seemed as if someone had beaten me to it and left me with the last little bit. I was pleased that I had also bought a lash conditioner (different brand) at the same time as this certainly helped it go on.
After reading a number of the previous reviews, I am left wondering if they haven't just got it consistently right with each batch as there is a great variance in opinions re the various properties of the mascara. Hopefully it improves in the future as it would be nice to use a local Aussie brand.

Not a tubing mascara

I bought this as a cruelty free replacement, and was excited by the great reviews.

However, I was very disappointed. This mascara smudged exactly the same as all other mascaras, and is not a true tubing mascara.

Might be OK if you don't have oily skin or issues with smudging.

Terrible!

Terrible mascara! Its so thick it literally feels like putting superglue on your lashes.. They all stick together and it feels horrible on. I've tried wearing it a few times and had to give up on it.. Not sure how it got such high ratings or an award.

Great mind price mascara

I get see what the fuss is about. Great product, giving you full body lashes. Lasts a long time as well. The end of the mascara did come off after only a couple of weeks, could have been just a fault in my product but other than that can't fault this mascara, Great plastic brush as well for those who don't like a bristle brush

I like it!

I like this mascara. It is a bit dry but it really separates and coats each lash. It's not clumpy at all, which is what I love. The brush allows you to separate your lashes while applying the mascara. Would repurchase.