L'Occitane Almond Shower Oil 250ml 250ml
Skin Concern:
Dull, dry or dehydrated skin
Frequently bought with
Please wait while we find a match
Questions & Answers
(2 Questions)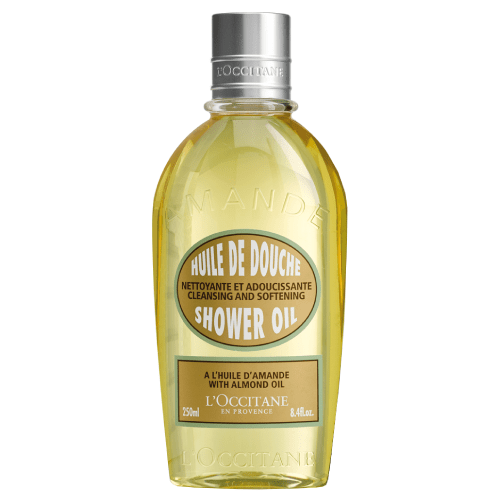 L'Occitane Almond Shower Oil 250ml
Get an expert to answer your question about this product!
Ask a Product Question
96% recommend this product
Most Helpful Positive
Incredible!
Smells like absolute heaven! I love this so much! I will always use this literally forever.
Most Helpful Criticism
Very lux
Extremely luxurious and smells amazing, obviously the price point is a bit extreme for a shower gel, so for that reason I would not re-purchase
Incredible!

Smells like absolute heaven! I love this so much! I will always use this literally forever.

Pure luxury

I was looking for something to make showers a bit nicer (if you only have 5 minutes of me-time a day, this is how it's done!!) This is it. My skin feels softer, it smells amazing, and it goes on nicely too. It's a bit pricey, but it is so worth it.

Unfortunately addicted

I always thought shower gel could be skimped out on, but I found this and my skin is addicted. I will never buy cheap shower gel again

Such a treat to use!

This product, while pricey, is absolutely lovely to use and leaves the skin feeling soft and smooth. The scent is divine, and the oil emulsifies to become a lovely cleansing milk when mixed with water. I love to use this when shaving my legs also- the slippery consistency is perfect for ensuring a close shave and keeping the skin moisturised. Definitely recommend this product- you will become addicted!

Beautiful light yet hydrating shower oil

I have dry skin and suffer from small psoriasis legions. When I use this Almond Shower Oil with exfoliating gloves my skin feels beautifully hydrated but not overly oily. It has a lovely light scent and never irritates the psoriasis patches like many other shower products can do. Highly recommended for those with dry and sensitive skin.

Nourishing

Nourishing oil that leaves skin glowing and silky soft! Smells luxurious and is just all round amazing

hydration but not oily

This is one of my favourite products in Loccitane. It hydrates my skin after shower, but not oily at all. I use it in every winter.and keep my skin smooth.

greatttt

This is the best moisturising shower product I have ever used - it really does make my skin feel soft without being oily. My skin can get quite 'papery' and no other brand I've tried have been effective

Great to use in winter in Canberra

This is great for using in the colder months in Canberra as it is so dry here. 100% recommend if you have really dry skin like myself. I found it to be very nourishing and I loved that after my skin has a nice sheen to it. Bonus points for smelling great.

Sheer Luxury

I adore this shower oil. It makes my skin feel ridiculously smooth and pampered. The price point is quite high but as a "treat yo self' item, it's worth it!



Lightweight Oil

This oil is lovely and hydrating without being heavy. It has a beautiful scent and definitely helps my skin now that the dry winter months are here.
I pair it with the almond moisturiser and my skin feels amazing - it all sinks in without being oily or heavy


Good splurge

I absolutely love this shower oil! It is so great to use when I don't want to follow up with a moisturizer and it feels amazingly hydrating in the bath.
I always make sure I have this shower oil when winter is starting as it helps protect my skin and keep it nice and soft from the harsh winter temperature.
Would definitely recommend!

A lovely treat

This shower oil is very luxurious and is a really nice treat but not something that I would use on an everyday basis. I think that the price is a bit high for what it is.

Indulgence at its best!

One of my favourites from L'Occitane body range. I love the scent and how my skin feels soon after I use it.

Great in winter

Lovely smelling nice moisturising shower oil. It's good to use during winter or I use it in summer just when I don't want to follow up with a body moisturiser after shower.

Very lux

Extremely luxurious and smells amazing, obviously the price point is a bit extreme for a shower gel, so for that reason I would not re-purchase

LOVE THIS

I absolutely LOVE this shower oil. It goes on so smoothly and feels so moisturising and luxurious on my skin.

I just love how it feels, it has a beautiful texture and smell and has wonderful moisturising capabilities. Will definitely repurchase when it runs out!

Love This Product

This is one of my favourite L'Occitaine products. I first purchased this product because I don't like soap, I feel it makes my already dry skin even more dry after showering. This shower oil lathers when applied like soap but I do not experience the same drying out of my skin. Would 100% recommend this shower oil.

so luxe!

LOVE this shower oil, its really hydrating and sinks in very well. Its very luxe and is a bit too expensive for the amount you get but I love it.

Lovely -I'm a L'Occitane convert

This shower oil has turned me into a total bath snob. It is luxurious, makes my skin feel immediately soft and smells divine. I bought one for me and one as a gift for my bestie. It feels like such a special treat.

Feels luxurious but wont lather too much

If you do not care much for lather than this is a really luxurious shower gel. Smells and feels good. A bit pricey though!

Beautiful & Luxe

Love this Body Oil, the texture is so luxe and feels warming over your body. Perfect for my dry skin in winter. I loved it so much that I've bought one for my Mum for Mother's Day.

Super star

This is a super star product, amazing and so luxe!

A nice pampering

After reading all of the reviews, I thought that I would try this shower oil. While it is a really nice pampering, I can't say that I would buy this again. The oil is beautiful on your skin but it doesn't give you a cleansed light feeling. I found the smell to be average, not one I'd rave about. Even though it says Shower Oil, It would be better to use as an after shower treatment before towelling

My all time favourite

I love this shower oil! My skin has a tendency to be dry - especially in Winter. This oil is ultra moisturising. It has an amazing scent and gives me a sense of luxury each morning. It lathers up into a foam so it is easy to use. I follow with L'Occitane's Almond body cream - my skin is soft and I smell amazing!

Gorgeous oil

Such a gorgeous luxurious and sweet scented shower oil that makes your skin soft and glowing

Luxury in a bottle

This is probably the most luxurious in shower product you'll ever use. It smells so good; not too sweet just perfect. Skin feels amazing and not stripped after the shower

Great for dry skin and smells divine!

I have dry skin & most shower products leave my skin tight and flaky. L'Occitane shower oil leaves my skin soft and moist PLUS smells divine. Expensive but a little goes a long way. A little luxury each morning!

beautiful

I bought this shower gel after being recommended by a friend. I love trying out new beauty products so took the plunge and bought it. The first shower didn't wow because my friend told me how soft her skin felt and smelt after using it. I told her that it didn't do much for me and she told me her secret to how she utilised the shower gel. I used her method which was to soap yourself up after you've washed your hair etc and quickly rinse and then hop straight out of the shower. The smell stayed on my skin and it felt so smooth and soft.

An all-time fave

This divine shower oil smells absolutely delicious, with a scent that lingers on the skin for hours. It leaves my skin smooth and moisturised, can skip the lotion in summer! Love it.

Great option to skip lotion

This is my staple winter shower routine for when I'm too lazy to lotion (most days). While it doesn't moisturise my skin for the entire day per se, it doesn't make my skin look super parched either...it basically is a good middle ground to make my skin survive winter without lotion-ing everyday. Of course, when I do get into a routine of using this + lotion after shower, I'd get the best baby soft skin ever (but who got time for that).

The formula in the shower is heavenly -- it lathers into this amazing oil-foamy luxurious lather and your skin feels so soft after. And the scent is just beautiful, like a sweet almond pudding.

My only complaint is that it doesn't retain the moisturising effect after shower for long. There are other in-shower moisturiser shower formula out there that can retain moisture on skin for far longer.

Can't live without

Began purchasing this a year ago and haven't used a different shower wash since, I have a constant supply to restock when it runs out.
Smells amazing and feels fabulous on the skin.
Lathers nicely without foaming overboard and regular use leaves skin feeling significantly softer after showers.

Amazing!

I received this as a gift several year ago and haven't stopped using it. The texture isn't exactly like an oil, it's a bit thicker, and mixed with water it gets more of a rich shower gel consistency. It's lovely as an alternative to soap but what I especially like it for is shaving: I used to get terrible rashes and bumps, and when I started using this they improved significantly. I recommend this to everyone who mentions issues with shaving now, or anyone who has sensitive skin. The smell is gorgeous too.

Nice product

I received this shower oil as a Christmas gift and wasn't sure it would be used. But after trialing it I was so amazed! It foams up amazingly and leaves your skin feeling so smooth. It's a great feeling having super smooth skin and waking up smelling great!

wow amazing

i looooove ow much this foams up which is suprising because it is labelled an oil. but man does this smell amazing. the scent really lingures on you and leaves a lovely fragrance behind. makes my skin so smooth and hydrated once im on of the shower. gentle on my sensitive skin has never irrated

I love this shower oil.

One of my first products I used with the L'occitane range as I was given this in a set with the other Almond products- each and every Almond product is divine.
This oil feels gorgeous, smells gorgeous and is gorgeous in every way possible.
I use this before im going to get out of the shower and rub it into my body and give myself a very quick rinse and then pat dry.
I dont normally put body cream on after.


beautiful product

this shower oil is nice on the skin, I have a normal skin type but my legs get really dry if I don't moisturize after a shower. this product works best if you apply to the body with your hands... I'd suggest to maybe turn off the water, apply all over then wait for a little to let it soak in.. if you're just under the water, the product doesn't really settle in and leave your skin feeling soft and smelling great.

Fantastic product

Well now I'm in my 40s my fair skin is much dryer and sensitive so always cautious about products.
I had heard a lot of good things about this product so have it a try. I love it. It works. A close friend mentioned my soft skin and I recommend it...I rarely recommend products or services. They need to be top notch.
It doesn't leave skin oily at all and I find the smell minimal which is great.
Will continue to use.

A really great shower oil

the best shower oil I've ever used, smells really great, comes out literally like olive oil and goes on the body great, nice and hydrating as well.

Deep hydration and gentle body wash

It is very gentle shower oil. Never feel tightness and dryness after use. L'occitane always has beautiful scent for most of its products. I love to use it every night before bed.

Best gentle shower oil

I have sensitive skin and this is the best shower oil I've tried out of a lot of shower oils! It smells so gorgeous and it leaves my skin lightly cleansed and smooth.

LOVE

This shower oil smells and feels amazing and nourishing. It never lasts long in my house, even my boyfriend uses it!

Bougie but lovely

Let me just say, you do not "need" this but it is a nice treat! It smells lovely and has great texture but is just a moisturising soap lol. It's also very nice in the bath

Love it!

Purchased this for the first time and totally in love! The scent is subtle and not overpowering the best part is how moisturised it leaves your skin will definitely make sure I don't run out!

Gentle

This shower oil is really great and one of my favourites. It's gentle and the smell is nice and doesn't linger which is important for me.

little touch of luxury in the shower

My favourite little touch of luxury in the shower. It smells so delicious and I always feel so great using it.

The Best Shower Oil In The World

Love the smell and absolutely amazing -skin has never been softer! A bit pricey but worth it!

Lovely product

Makes showering so much better and doesn't further dehydrate my skin. I have quite dry skin and still need to moisturise afterwards, but this is gentle and doesn't add to the problem

Great Gift Idea

This body oil is so luxurious and appealing, I have purchased this as a gift for many family members and friends and it's always a winner.

The smell is absolutely divine but not overpowering or too intense. The oil glides over the body and lightly hydrates, it's good for using as a pre-shower massage oil. Once you actually get your skin wet, it doesn't foam up immediately, but once you rub it in. It works best with a loofah or glove.

It is just a lovely little experience, which is why I love giving this as a gift

Love this product.

This shower oil lathers lovely and has a subtle scent. Leaves the skin soft and supple.

Love

Thought I'd give shower oil a go and so glad I did!! left my skin feeling super hydrated after just one use and has the most beautiful scent. It's a super surprising bottle

Love

I love this product. It came recommended as im just the laziest person in the world and can't be bothered moisturizing my dry skin. So this is amazing cleanses and smooths at the same time. Double bonus. Has a beautiful scent and is more of a milky texture than foam once mixed with water. My skin defiantly felt alot more hydrated after the 1st use.

skin has never been softer

this feels like heaven on the skin. super moisturising and smells so yummy. my skin is literally glowing and feels like a baby's bottom afterward. after just 1 week of use, alongside my usual post shower moisturiser, i received so many compliments for how soft my skin felt (mission accomplished!!). only dislike is the packaging, i feel as though a pump would be better suited for in the shower. will rebuy when i feel like treating myself :)

Beautiful product

This gorgeous oil leaves my sensitive and dry skin feeling so smooth and hydrated. Oh and the divine scent lingers for hours after use.

Luxury shower gel

Such a nice shower oil, beautiful texture and smell. A little pricey, but absolutely quality product. Not drying at all

daily luxe

Have been a fan of this shower oil for the better part of a decade and it is hands down, of the The Best! The scent is divine, the oil emulsifies into milky goodness when it comes into contact with water, and it is an effective moisturiser - in summer months I find a towel down is all I need after a shower with this. It's pure luxe.

Great for dry skin and keeping your tan longer!

I get itchy from dry skin and this has saved my sanity. My mum and sister both use it now too and it helps my sisters fake tan to stay for days longer. It smells amazing.

Beautiful

This shower oil smells so beautiful and is a really great gentle cleanser

The best!

Really good alternative to using a soap. The shower oil isn't drying and the smell is relaxing. I have dry skin and after washing it off, my skin feels comfortable and not too dry

Silky

smells incredible and leaves my skin feeling silky. A great shower oil!

Incredbile

This is the most luxurious body oil I've ever used, not only does it leave your skin feeling smooth and moisturised but also leaves you smelling incredible! A must have in the shower!!

Amazing smell!

The smell of this is so gorgeous & it is super moisturising & non irritating! I have v dry & sensitive skin & I find this to be a luxurious little treat every time I shower!

Luxurious!!

Smells gorgeous, incredibly moisturising and luxurious. Works well on my dry/sensitive skin.

soft and natural

This shower oil leaves your skin feeling super soft and moisturised. Made from very natural ingredients, feels nice when using it

Luxury

Everytime i use this I feel like a queen. Its so beautiful and luxurious!! Smells stunning

Amazing

Amazing!! In love with this. So nice to use and foams beautifully.

Nourishing and feels so nice on the skin

Absolutely in love with this shower oil. I've got dry skin but when I use this I don't even need to use a moisturiser after. Definitely worth the splurge.

Smells like heaven

This smells AMAZING! I get sooo many compliments on this and I have never ever been a fan of any shower gel. I've purchased so many, but this is the only one I've ever wanted to repurchase. It feels luxurious and when the smell hits you, you'll fall in love!

Like no other shower oil on the market

Love this shower oil. The bottle lasts for a while (mine lasted over a month). Great for sensitive skin and seems to suit my skin when it is oily or dry. Acts a moisturiser too as it soaks into your skin. Just gorgeous.

Great to keep a spray tan lasting

i love the L'Occitane moisturiser cream but this i use when i have had a tan to keep it lasting longer and fades evenly. Also the smell is really nice and subtle.

Soooo nice

I've always used a body wash or soap, so this was my first time using a shower oil. It was so lush! Smelt delicious and I felt so soft.
It's a really nice product and I would buy..but am trying to avoid single use plastics. If it came in a bar-form I'd be all over it!

Amazing!

Definitely worth the purchase. Smells amazing, just not as moisturising.. but overall, I love it

Very good

Great product, convenient and saves time as the shower oil hydrates skin while you shower. Lathers up nicely and smells beautiful.

Best gentle shower oil

Beautifully scented, soft gentle cleanser. It lathers nicely and when I wash it off, my skin is lightly hydrated and scented.

Lovely scent

This shower oil gently cleanses the skin and also keeps my fake tan on for longer. Totally recommended as it moisturises the skin at the same time.

Smells lovely

This product surprised me - I've used other oil based body washes in the past that did nothing different to any other wash however this bad boy is much different! It's super weird how it foams up - it's kinda like it turns some what "hardened" before it turns to its luxurious, milky consistency - it's really cool. Then the smell hits you! It's like you're walking past frangapanis on a warm summer day with a hint of a coconutty sunscreen vibe - it just smells like warm summer beach days and I love it! It left my skin feeling actually moisturised after the shower which I've never experienced before. 10/10

Heavenly scent but irritates my skin

I finally caved in and bought this product - I'd been eyeing it off for a while. It feels luxurious and smells incredible BUT it reignited the keratosis pilaris (chicken skin) on my arms :(

I'll use the bottle to get my money's worth but I don't think I will buy it again.

Lovely smell

I wasn't really expecting much, but oh my goodness. It was just so lovely for my skin! The fragrance is light and oil leaves my skin feeling incredibly soft. It doesn't lather a whole bunch, just a small lather. I only use a tiny amount on a loofah and that's enough for my upper body. Just a few more drops for my lower body. It's perfect for me!

Smooth, smells amazing!

Luxurious and smells like a dream. Makes your skin super soft, I always look forward to using it in the shower =)! Highly recommend!

Silky smooth

Absolutely love this lux shower oil. Has a really nice scent and leaves my skin silky smooth

Amazing bath oil

This stuff is divine - it smells incredible and leaves your skin feeling, and smelling, wonderful. It's not greasy at all as it goes milky once you add it to bath water. I will continue to repurchase - highly recommend.

Beautiful product.

Received a sample of this with an order and fell in love with it. Gorgeous light fragrance. Will be ordering this product for sure!

so great

i love this body wash so much!!! the smell is to die for and its so foamy and moisturising!!! highly reccomend

Luxe!

Loved trying this one out. Easy to use and left my skin super soft.

Luxurious and addictive!!

Dont be fooled by the word oil, this luxurious shower oil lathers up to a hydrating, milky consistency with an addictive warm and comforting almond scent. Its just heavenly and a really good spoil yourself or someone else product.

I never thought I would describe a bodywash as pleasurable..but here we are

Dear Adore..

Please send me more samples of fancy french shower almond oil, (and don't forget the Timtams.)

I am currently saving up to buy myself a bottle of body wash.. words I never thought I would say (I own jeans that cost less than a bottle of this stuff), but Oh My! its worth it just to know how wealthy French people must feel when they shower.

No need to moisturise post shower. The scent is heavenly. And I havent seen it mentioned in other reviews, but I swear that it seemed to warm up on contact with my skin.. but maybe thats just me, maybe I'm special? Yeah its probably just me..

This is so luxe that Gwyneth Paltrow probably washes her dog in it!! It's that good.


Moisture Rich

Skip the moisturizer post shower. This product is so hydrating I don't need moisturizer upon drying. The oil texture, rather than 'bubbling' up encourages you to massge into your skin, leaving it super soft.

Heavenly in every way ...

Another fab product from l'occitane. This looks like a clear gel until you mix it with water, when it goes foamy. The smell is so good!!! The smell fills my bathroom and I feel so fresh and clean after using it. My skin is less dry these days

Lovely scent!

This stuff is beautiful. It's a little on the expensive side but if you want to treat yo self, it's worth the spend. The scent is really nice and lasts on your skin. It's nice and hydrating also!

Gorgeous product

I love this product, it feels and smells so luxurious and a little goes a long way. My skin feels hydrated and soft after using it and it's also great to use as a shaving oil for my legs.

Good wash

I got it as a sample. Nice texture. I liked the smell at first, but after a while the smell became too strong and artificial for me. Cleans well without oily residue. However, I do think it strips skin of its own oils.

Awesome

This shower oil is amazing, so thick and hydrating. Love the scent - not overpowering at all.

Love it!

I can't believe I haven't noticed this product before. It's so hydrating that I don't have to apply any lotion after my bath. The smell is definitely another reason to keep using it.

love!!!

I've been searching for a shower gel that has a lasting scent and this is perfect!!! i love the smell and it's also sooo hydrating! Lathers up really well gets really bubbly :-)

Luxury!

This amazing shower oil smells delicious! It's thick and luxurious and oh so hydrating on the skin! The only reason why I don't give it 5 stars is because it's a bit pricey for shower oil, but it's too good not to have! The solution?... when people ask what you'd like for your birthday....you'd like this! Simply gorgeous.

Felt luxurious on my skin.

I received this as a gift from a friend and also as a free sample. I am over 40 and was really happy with how soft and fresh my skin felt after using it. It certainly felt luxurious on my skin.

Addictive

Be warned you will never use anything else. I have always had super dry skin this is so fantastic I love the smell and I cannot do without it. I even have to but the travel bottles.

Amazing product

I have used this product pre and post pregnancy and it gives me an amazing feeling. It makes your skin soft and silky and smells amazing

It does leave my skin silky

I received this in a sample and gave it a try in the shower. It smells pretty nice and does leave my skin silky and smooth.

Luxury Shower Product

The smell of this shower oil is amazing! Im not normally into almond scents, but this is heavenly! Left my skin soft, nourished and smooth to the touch.