R+Co Outer Space Flexible Hairspray 315ml
Official Stockist
FLAMMABLE

This item is flammable therefore postage is restricted to Standard Post within Australia
Hair Curl Type:
Curly
Straight
Very curly/African/Caribbean
Wavy
Frequently bought with
Please wait while we find a match
Questions & Answers
(No Questions Yet)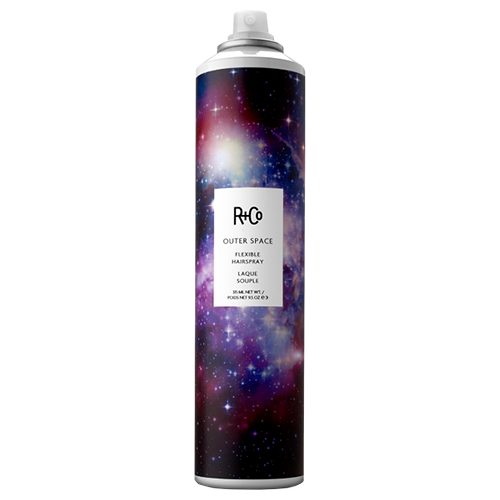 R+Co Outer Space Flexible Hairspray
Get an expert to answer your question about this product!
Ask a Question
100% recommend this product
Most Helpful Positive
Love this hairspray!
This spray is fantastic. Not an overpowering smell and it has a nice flexible hold.
Love this hairspray!

This spray is fantastic. Not an overpowering smell and it has a nice flexible hold.

Gorgeous!

Love this hairspray, sets quickly for up do's, and smells great!

HG hair spray

I have finer hair that's hard to curl, and it's also super long.

This is the best hairspray ever. Smells different, in a good way. Like a bit of vanilla but masculine as well? It doesn't go crunchy and holds my curls.

Never stop making it!

Awesome

This spray is my 'go to' hairspray..... it is amazing, holds really well and doesn't cause that white speckly build up.

Fabulous!

This hairspray is just great! Others can leave white residue along the hair shaft, but this never does. It holds instantly without looking stiff, and doesn't dull the hair. Such a great product!

Great for styling

The hairspray isn't too stiff and it's great for styling or just to tame my fringe

Good hold

Nice hair spray that gives good hold but still lets your hair have natural movement. I quite like the scent of the spray too

The Best

I've totally fallen for R+Co products and this hairspray is not exception. It doesn't make your hair feel crunchy and leaves it flexible for styling. Super versatile and definately a winner

Flexible hair spray

Love the smell it doesn't linger all day on me. I mainly use it to tame flyaways it doesn't make my hair oily even if I use it 3days in a row between washes.

It's not crunchy at all and brushes out easily too.

Love R. CO!

Perfect Hairspray

if you dont like your hair feeling hard and crunchy after using hairspray, then this is for you. It is on the more expensive side, however it doesnt make your hair stiff and crunchy. It really allows ur hair to still move, but also holds your hair in place well. i really only use r+co products, and once again they have made a fabulous hairspray!

Excellent Hair Spray - very flexible

I love this hair spray. It's extremely flexible. Smells amazing. Easy to brush out without the feeling of product or hard bits left in the hair. I use it most when wearing my hair curled as I like felxitbity and to be able to have my hair move without creating frizz that a normal hair spray would give. Quite expensive. However a little goes a long way. I would purchase again in the future.

HG Hairspray!

I purchased this hairspray after my hairdresser used it on my hair. I have very fine straight hair and have been trying to find a hairspray that tames the little fly-always without weighing my hair down or making it look greasy. This r+co spray is perfect! As it says, it is a flexible hold, so it is perfect as a finishing spray to tidy up the hair and helps hold a loose hairstyle in place. I have been using this every day for both hair up and hair down days. I really like the smell, it's light and pleasant. I can brush this out of my hair at the end of the day and it doesn't leave my hair greasy.

best hairspray i've ever used

it does everything you want your hairspray to do and doesn't even feel like you've got hairspray in your hair! it also smells so much better than regular hairspray!

Out of this world

Fairly strong hold hairspray without the crunch, or greasy looking finish. As the name suggests it has a flexible hold, and the product can be brushed out of the hair. It smells beautiful and doesn't leave your hair or hands with a sticky residue. Will repurchase again.

One of the best

One of the best hair sprays I've ever used. It holds your hair style without a sticky strong hold of he hair, and no yucky residue. It also has a fab vanilla (ish) scent.