Skinstitut Glycolic Scrub 14% 200ml
Questions & Answers
(9 Questions)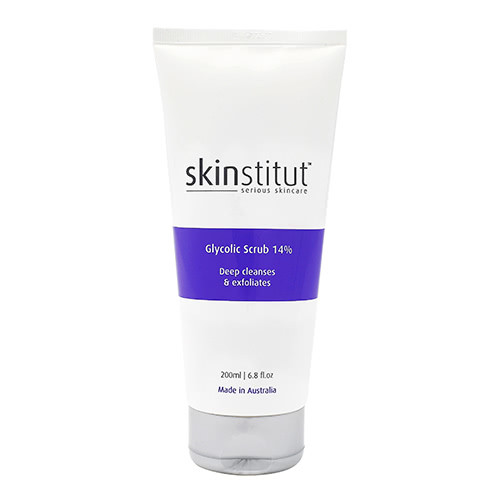 Skinstitut Glycolic Scrub 14%
Get an expert to answer your question about this product!
Ask a Question
94% recommend this product
Most Helpful Positive
Best
Best scrub I've used, no harsh on my face. Leaves it looking clear and feeling very soft
Most Helpful Criticism
Very cleansing
Very cleansing scrub, leaves skin soft and a little bit tight. Don't rub too hard with this stuff, it will make your face go red.
Great exfoliation

This scrub is a really great one for a combination scrub. Leave it on for a couple minutes and then gently work into the skin and rinse. Really good for using in the shower.

Best

Best scrub I've used, no harsh on my face. Leaves it looking clear and feeling very soft

Great exfoliator

Swear by this product. I have problematic skin and this does a great job of exfoliating, while still being gentle on the skin.
Can't live without this.

Amazing exfoliator.

Swear by this product. I have sensitive problematic skin and this has contributed to fixing my skin concerns.
Can't live without this.

Fantastic multi purpose scrub

Such a versatile product - I use it for facials as well as on the body when I have dry patches.

Super smooth skin!

This product makes your skin so soft and smooth! I use it on areas of my body that I get lasered and it works great at helping the hairs fall out. 14% glycolic acid is quite potent though so I would ease into using this if you aren't comfortable with acids just yet.

Very cleansing

Very cleansing scrub, leaves skin soft and a little bit tight. Don't rub too hard with this stuff, it will make your face go red.

Good Scrub without being too harsh

This scrub is very fine and exfoliates my skin nicely without harshly scratching my skin like some others I have tried.

LOVE

Such a versatile product - I use it twice a week followed by the Aesop Blue Chamomile Hydrating Masque for a great easy facial, and also occasionally on the body wherever I need exfoliating- it even helps prevent ingrown hairs on the bikini line.
Permanent addition to my routine!

Good scrub

It was recommended that I use this after laser to stop any ingrowns and it works well for this purpose.

Absolutely essential for laser hair removal

You know you're taking good care if you use this before and after a laser hair removal treatment. Most defs need for exfoliation of skin so it doesn't block where your hair follicles are. Potent source of glycolic acid wash for your face i would probs just use once or twice a week.

Good Scrub

I received this as a deluxe sample and have been using it twice weekly. My skin definitely feels buffed and polished afterwards. I find i have to put a decent serum/moisturiser on afterwards otherwise my skin feel taught and dry, i would say i have oily skin.

Great scrub

I really like this scrub. It leaves my skin feeling soft and smooth. I use it a couple of times per week, including on my back where I noticed a few spots appearing. I have now got my husband using it as well.

Excellent face scrub

I love this scrub to exfoliate my skin and deep cleanse my face twice a week. It leaves your skin feeling so smooth and my acne is subsiding. It is suitable for my sensitive skin without it being too abrasive. It has no strong scent which is good, and it also is ocean friendly with no micro beads which is a plus.

Feels like new skin!

This scrub is the perfect consistency. Since coming off the pill my skin has gone crazy but I find using this product, targeting my problem areas really makes a difference. I use this at night and the ASAP cleanse and refine morning and night to get the best results.

Way too harsh!

My skin is pretty tough and I barely ever react to products. With oily, acne prone skin, I loved this scrub the first time I used it because it left my skin baby smooth. However, with regular use, I started to notice that I was getting incredibly sensitive. I initially used it daily (as recommended on the bottle) and my skin was red and angry, my blemishes were painful and raw and when I used the scrub, it stung my face and eyes. After leaving it for a bit, I tried using the scrub again but 2-3 times a week. I've still noticed that my skin is incredibly red afterwards and the appearance of my acne is more prominent. The noticeable fumes sting my eyes upon application and I've just come to the conclusion that this scrub is way too harsh with the glycolic acid, as well as the coarse grain. I have the feeling that the scrub might actually damage the skin since it's so rough and there are so many other scrubs out there that are less stripping. I've got half a bottle of the Glycolic Scrub sitting in my bathroom and the only thing that's stopping me from throwing it out is how much I paid for it! Coming from someone whose skin is normally pretty bullet proof when it comes to sensitivity, this scrub made my skin SO angry and irritated so I would proceed with caution - there are other more gentle scrubs out there that will smooth your skin without being so damaging!

Soft skin

Received a sample it's a good scrub and leaves my skin smooth and soft doesn't harm my sensitive skin

So far so good.

Received a deluxe sample and had always wanted to try Skinstitut. Have been using twice a week for a month and I am happy to have found a exfoliator that works. It has just the right balance and is not to harsh on the face, just remember not too scrub to hard. Cant wait to see the benefits after long term use.

burns my eyes

i have used the face wash in the brand and recently started using this

i find it so harsh it burns my eyes its really quite horrible to use/endure i did continue to try to use this on 4/5 occasions and nope still hate it

i dont have sensitive skin but i find this scrub abrasive and harsh

i do not recommend this

Shrunk my black-heads

I bought this product as recommended by a laser technician to prevent in-grown hairs. However, it has been amazing as a face-scrub to reduce the size and frequency of black-heads!

Pretty good

Leaves skin feeling super smooth. Texture is very course and feels very a bit rough on the skin so it's best to use on wet skin. But results are worth it

Leaves skin feeling clean and fresh

Love this product, after trying heaps of products that would stop my chin breakouts and oily pores, this one really seemed to help. However, I wouldn't recommend it for daily use, because it doesn't lather up and you have to use quite a lot of it, meaning it runs out quite quickly.

Great chemical exfoliation!

I have oily skin and I use this once a week to gently exfoliate my skin without the harshness of microbeads or walnuts (St Ives./Kylie Skin). It leaves my face with a nice sheen and I follow with the rest of my PM routine. Definitely a staple.

Great scrub - combats acne

I LOVE using this product. I have normal skin with mild acne on my cheeks and jawline. Since I started using this product (a few months ago) I have noticed a massive change in my skin, it not only looks much clearer but it also feels so much smoother and healthier. It is such a quality product and the results really motivate me to maintain my skincare routine and look after my skin.

Great facial Scrub

I tried a sample and was so impressed I bought the full size tube. Excellent product, would highly recommend this.

Does the job

I use it every 2-3 days in the evening after my cleanser. Its has helped with my congestion along my jaw line as well as the blackheads on my nose. I find it too much if i use it everyday. I am not a really big fan of the scent but I have gotten used to it and I will keep using it as it has made a visible difference for my skin.

Fine scrub that leaves skin clean and smooth

I am a huge fan of the Aesop face scrub however this one has overtaken it. This scrub has finer granules leaving skin feeling smooth and extremely clean afterward. Removes blackheads and prevents breakouts well.

I use this twice a week and have extremely sensitive dry skin and have not got any strong reactions or rashes.

There is no real fragrance for those that dislike strong smelling projects.

Great for breakouts

I love this scrub, it really helped calm my acne and clear up break outs. Can make your skin dry/flaky if you use it too often, so stick to once or twice a week.

Great for problem skin

My skin's been temperamental with breakout that was really painful and it affected my confidence badly. My best friend recommended this scrub and it's been amazing for my skin! I don't have any breakouts anymore and I live using this at the end of a really rough day as it makes my skin feel super clean.

The scrub itself can be rough on your skin if you apply too much pressure and although only a little is required, this does not lather well so I use more to ensure I have enough product on my entire face. It does make my skin feel a bit dry sometimes but their face cream puts enough moisture back when I use it.
100% recommend this.

Love this for my skin

This has made such a huge difference to my oily skin and really cleared up any blemishes! Have re-ordered this 3times now

Great but maybe too harsh

I loved this scrub because my skin tends to look dull quite easily, and the chemical and physical exfoliating components of this scrub really helped with my skin looking radiant for longer. I felt as though I only had to use it a couple of times a week, and my skin looked extremely radiant and smooth. I stopped using it recently because I heard that physical exfoliants with particles cause microtears which damage the skin barrier and accelerates ageing, and I started using retinol and think that this would be extremely harsh in conjunction with retinol. I would definitely recommend it for those who don't use retinol, tend to have duller skin, and don't have sensitive skin.

Great exfoliant

This exfoliant is amazing. After using your skin feels incredibly clean and smooth. Definitely will purchase again.

Hello fresh skin!

I have trouble with dry patches on my skin but since switching to Skinstitut I have noticed a considerable difference. I use this twice a week on my face.

Amazing

I use this twice a week and it stops any breakouts, any skin unevenness and makes my face feel soo soft

awesome

this scrub is sooo good!!! it made my skin feel so soft and clean

Strong scrub, you can feel working

Skin type: combination
Skin concern: Dull, Dry skin, blemishes on jaw line.
This scrub is amazing! Has tea tree to really help with acne & congestion.
I use this daily, not over my whole face but on breakouts & weekly when I don't have breakouts. You can feel it working as it stings sometimes, also make sure u shut ur eyes as even putting it on your nose can sting your eyes if they are open (well mine anyways).
I use this with the glycolic cleanser & my skin has never felt so smooth


unsure

I do use and like this product, however am unsure of its worth especially taking into account it's price. It is nice and does help skin feel cleaner, however I can't say I've notice any dramatic difference in the appearance of my complexion since using it. While it is a nice product to have, it is not a staple for me and I will not be repurchasing as I find chemical exfoliants to yield much more evident and quicker results

The best scrub! The only scrub I use!

This product is amazing. I can see the results immediately. I use it once a week on clean skin. I notice the difference when I don't use this product and my skin is not happy when it isn't used! It is perfect for removing the build up from throughout the week and leaves my skin feeling fresh, smooth and new. I have somewhat sensitive skin and this product does not irritate my skin all. I do recommend not using it too often throughout the week as it is quite strong. I find 1-2 times a week works really well. I find this scrub works really well for target areas - i get blackheads and some pimples around my chin and nose areas. I find using this scrub on these problem areas really improves the complexion and removes gunk.
A little also goes a long way so this product will last quite a while and it is such good value for money at this reasonable price!

wow

When i first used this i could not believe how soft this made my skin & how much it cleaned my face! My T Zone is usually covered in blackheads but with one use of this product my face was cleared! I am definitely so impressed!

Amazing!!

i struggle with textured skin and this product has really helped to get rid of dead skin and has made me skin so smooth!

Effective exfoliate- a bit stingy

I liked this product a lot and it definitely gets rid of dull dry skin however if you have extremely dry or sensitive skin this could be a little aggressive. Great for congested and thickened skin.

Smooths skin

Makes my skin feel very smooth and even textured. I would say use this once a week otherwise my skin gets quite dry from the exfoliation

Softest skin

I love this and the tube lasts for ages! I use once a week as its very abrasive! Its great on the backs of your arms

Good exfoliant

Leaves my skin feeling soft and smooth, can't use really often though as overuse leaves my skin feeling sensitive, overworking it when using stings my face slightly but overall a great scrub when used right

does wonders

I love this product, leaves the skin smooth and blemish free.

DO NOT WASTE YOUR MONEY!

This product is very dehydrating on the skin, it feels like you are exfoliating with sandpaper. Very abrasive! I used this product for 3 months and I had to chuck it away as it has absolutely ruined my skin.
I have combination skin.

Slightly Irritating

This product is effective in exfoliating as part of skincare after laser treatments however it is quite strong. When I wash it off in the shower I experience a stinging sensation on my skin. I do have to use a thick moisturiser after this product.

Great product, but beware if you have sensitive skin!

This product worked well on my sensitive skin at the beginning but I did notice my skin starting to get quite tight and dry after using and I did break out in some spots.

amazing scrub

This scrub is amazing, nothing else removes my dead skin quite like this one. Also inexpensive which is nice! I suffer from dry skin so this removes all dry patches, highly recommend!

Great product

I use this 2-3 times a week to give my skin a good polish and it does a great job at removing dead skin cells and replenishing my skin to nice and smooth. Would recommend!

Love it

I love all Skinstitut products but this is my go to cleanser in summer and the warmer months.

Great scrub

Great scrub, makes my skin feel so clean and smooth

Be careful!

I got a sample of this before I bought it and I'm so glad I did. Whilst it made my skin feel incredibly smooth and clean I did have a mild reaction to it. I do have sensitive skin but even using a little bit made my face burn and left little red dots along my cheek bones. Sad because it seems like a great product otherwise!

Not for sensitive/acne prone skin

I found this scrub a little bit too abrasive for my sensitive but acne prone skin

Good and gentle

this product is high in glycolic acid but is still gentle on the skin

Got it as a sample from adore worked well

Got a sample from a promotion through adore. Was a good product have brought again and use everytime I have a shower. Could notice the difference with my skin looking clearer.

Excellent scrub

This product is awesome, it gently removes everything and makes your face feel brand new.

Wouldn't use anything else!

I have oil/combination skin, I had tried many products to try and control my breakouts. The Skinstitut Glycolic scrub has been the only face scrub that has cleared my breakouts & oily skin. I would highly recommend to anyone struggling with there skin. This does not irritate your breakouts like normal scrubs do.

Great gentle exfoliate

I received this as a sample on one of my orders and I'm really loving it. I have dehydrated skin and this works really well for me. It s a gentle enough scrub but with the texture so you still feel like you are doing something. I use this once a week and find it helps my products absorb better. This is something I would purchase once my sample option is finished. I think its a really good product for the price tag and gentle enough to use.

Holy grail

My favourite scrub! I will never use anything else :)

A brilliant product

This is a great physical exfollient. Leaves my skin feeling fresh and smooth every time. Love love love

Best scrub I've ever used

After being introduced to the Skinstitut range I haven't looked back. Gentle but effective scrub. I have sensitive and occasionally dry skin but this scrub is perfect

Great face scrub

I've used this for a few years now and is a great scrub, if your face is feeling a little dirty give this a go even just once a week and it definitely makes a difference.

Leaves your skin feeling silky smooth

This product has delivered exactly as I expected it would when I bought it! It leaves my skin feeling silky smooth after using it 2 times a week & visibly removes all of my blackheads... would definitely recommend!

Very effective

I had read up on the best scrub to address KP on my arms, and am really happy with this solution. My sensitive skin tolerated this fine (on arms, not face). I wouldn't hesitate to recommend to others!

Very good product for in growth hair problem

I got recommend this product when when doing laser treatment. It leave my skin smooth after use and solved my in growth hair issue. Would definitely recommend this

Amazing, Amazing, Amazing Product.

I can't believe how clean my face feels. Highly recommended this product in addition to the addition products form the brand.
You won't be disappointed.

Smooth Skin

I use this as a once a week exfoliation and its got a thick sandy paste consistency and really leaves the skin feeling smooth.

Good for combination skin

The texture of the cleanser is good and my skin felt very clean afterwards. Would recommend only to be used once or twice a week as my skin did dry out abit.

Perfect for post laser treatments

This was recommended to my by my laser clinic and I love it, its perfect for that. However, its a bit too harsh for to use on my face as I have sensitive skin

awesome

one of the best scrubs ive tried. makes my skin really soft and smooth without breaking out

Keeps skin clear

The ingredients in this Glycolic scrub are quite potent. It can make your skin sting if you use it straight after cleansing so best to wait a while. I prefer to use this at night because it makes my skin a bit pink after use. It is a wonderful product for me and keeps my skin clear and fresh. I have oily skin and I have had no issues with more oil.

Fresh faced!

The scrub has been gentle on my skin and over the couple of weeks of using it I've noticed my skin has cleared up. Definitely recommend

I've found the one...

This scrub works wonders on my skin, from random breakouts to seasonal change affecting my skin. I only use it maximum 3 times per week and it leaves my skin feeling so fresh every time!

Skin significantly improved

I've been using this product for a few months now and love it. It's the perfect exfoliator, leaves my skin smooth and feeling fresh, and since starting to use it I've had fewer breakouts and a more even tone. Highly recommend!

Amazing for brightening skin!

This is a fantastic product for brightening skin and removing dullness. I use it 2-3 times a week and it does wonders. Just make sure you aren't overusing it, and if you have other products with active exfoliant ingredients such as Glycolic, be very careful about how often you use them as it can strip your skin.

Amazing product!

Amazing product! My mother (55years) and myself (20 years) both love and adore this product! It makes your skin feel amazingly smooth with no irritation. Perfect for breakouts and a great exfoliator.

Helps keep me clear

I've been using this cleanser on and off for many years. I use it once a day as I have oily skin and find it helps keep my skin clear from breakouts. When I'm nearing the time of the month I use it on chest to avoid any breakouts there. I wouldn't recommend this strength of glycolic acid for anyone with sensitive skin as it's really strong. Fantastic cleanser that really works.

Great and so affordable!

I love how affordable and effective this exfoliant is! i wasnt expecting much due to the price but i am always genuinely surprised at the high quality skinstitut makes!

Smooth as silk

I got a pouch of this as a sample in my most recent AB order, This scrub left my skin smooth as silk whilst still being gentle enough on my skin. Visibly improved blackheads, will definitely purchase the full size as I'd love to see the long term results!

The best exfoliator on the market.

I highly recommend this product. It's effective and a little goes a long way. I skin feels amazing after I've used it. I'll be sticking with this product for many years to come.

Refreshing scrub!

Got this as a sample, left my skin feeling so smooth and looking really glowy! Would give 5 stars but it was quite intense on the skin, would only recommend using once a week sparingly. It definitely delivers the results though, I might make a permanent addition to my routine

great body scrub

great scrub, kind of rough on my face so I use this on my body in the shower and it makes my skin super smooth and soft! have purchased 3 times now :)

Great

I love this scrub, I use it every week and I get great results.

great exfoliation

recommended to me by my laser clinic and i still use this. it leaves your skin smooth and glowy but i would suggest moisturising your skin after this.

Soft skin

I received this as a sample and after using it makes your skin so silky and soft. I am currently experiencing a breakout and feel like this product has helped with congestion. You only need a small amount so the product lasts for a long time. Would buy.

Great value

My skin has been lacking a freshness to it for a while and it wasn't until i tried this that i realised just how dull it really was. I bought the product after hearing of it as a recommendation. You really don't need much so its such great value and leaves your skin feeling so alive without making it feel stripped bare. Would definitely recommend!

Fresh feeling

I first received as a sample and repurchased the full size. This exfoliate is great for getting that clean feeling from your skin and also use before a mask for an even better feeling.
I use this in the mornings 2-3 times a week usually or if my skin is suffering I'll use it again. My skin is sensitive, it can tend to be a tiny bit rough if I have an acne flare up! But over all it's my current exfoliator and I love it!

baby skin

I received this as a sample and was blown away by the instant effect!

I've gone through 2 bottles now and apply in the shower 2 times a week.

Leave on for 30 sec, baby skin guaranteed.

Exfoliator that can be used on face and body

What i love most is that this product isnt too harsh on the face - my skin can sometimes be a bit dry and dehydrated. I use it once a week as i do hair removal laser (on the sides of my face too) and find it helps keep my skin smooth - but you need to moisturise after

A really nice scrub.

In over a week roughly that I have been using this product, I feel that my face has become softer & more clear. I've notice the dull colour to my face has gone & my actually don't feel or look to bad without needing much make up anymore. I get pimples often but not acne prone & i am finding that i am breaking out less.

Love this!

This is one of my fav skinstitut products. I use twice a week and it's great for my hormonal acne as well as scrubbing away any dead flakey skin. I love scrubs that are quite rough but usually they leave my skin quite red and feeling dry/tight. This scrub gives me that nice decent scrub without the nasty red skin afterwards. Love it!

so good

I use this on face and body, it helps to clear up my keratosis pilaris on my arms. I use it very sparingly and gently on my face as I do react with a lot of redness from the granules. otherwise would recommend as it is a great price. I have recommended this for friends and family

Unfortunately can't reccomend

I received a mini of this and have used it a few times. It was way too harsh for my skin and ended up aggravating my skin even more. I use gycolic acid in my skin care routine, so I think it was the scrub element that didn't work for me. The scent was also very strong/chemical like. I have quite normal skin too, so I wouldn't recommend for sensitive skin.

Works but I wish it was a bit thicker consistency

I used this scrub many years ago and I remember it being a thicker consistency. Bought it recently and it seems more watery. That was a little disappointing, but it definitely still works very well, I only use it around twice a week as my skin is a little acne prone/sensitive. And I loooove that Skinstitut is made here in Aus!

3rd time purchased already

I love this scrub, it my 3rd purchases already. Keep my skin smooth and soft, also solved my in grow hair problem. 1 tub last a long long time :)

Excellent Exfoliant

This exfoliant is fantastic, it's not too abrasive on the skin and has a creamy texture that really feels like it is cleansing deeply.
part of my weekly routine and will always be my go-to.

Perfect for a Deep Clean

I use this scrub every second night, and after wearing heavy makeup. It doesn't burn or irritate my skin unlike other glycolic scrubs I've used in the past. It truly gives your face a thorough clean whilst not leaving your skin too dry.

Great for refreshing tired looking skin

I use this 2 times a week after cleansing. My skin always looks fresher, brighter and feels much softer after.
I have also noticed that it is gradually lightening my sun damage. It's a great product at an affordable price

Refreshing scrub

I originally started using this scrub as a post laser hair removal exfoliation, which is still what I use it for primarily, and it's great to prevent and reduce ingrown hairs. It's not super harsh on the skin so it's good as a whole body exfoliant. I also like using it on my face once a week or so for a good scrub - leaving it on for a few minutes in the shower helps my skin feel super soft and refreshed. The bottle is quite large too so lasts a decent amount of time.